Age: 13
Temperament: can be a bit of a grumpy old man but affectionate and loving at heart
Dog friendly: still being tested
Cat friendly: no
Children: 14 plus
Hi, my name is Rover and I am looking for a new home as my mom got poorly. I am sad but I can't wait to have a family who can walk me again as I didn't go out for a long long time. In fact my mom got so poorly she even forgot to let me out in the back garden so I had to go to the toilet in the house which I didn't like at all. I have learnt how to use the garden again already though, I'm a clever boy.
I've had such a tough time recently, I went to the vet people to have my boy bits and some lumps removed. Unfortunately the lumps were more serious than first thought and had actually spread out like an octopus. There were eight lumps all together that had to be removed. But because of how they had spread out it wasn't possible to take all of the bad stuff away. I had huge wounds and almost 50 stitches!! I looked like a patchwork quilt! The only good news is that the lumps were grade three which means they should hopefully be slow to grow back.
Some lovely people gave me some time at their home to recover out of kennels but sadly I am back there now. I have been a very brave boy throughout all of this and even had all of my stitches removed whilst I was awake! I did have to wear a muzzle but I was pretty good considering there were so many!
We are not sure if or when my lumps will come back so I really need to find a foster or furever home as soon as possible so I can have some love and good times. If my nasty lumps did return, there would be some financial support available, which my friend Charlene would discuss with you.
I can be a little nervous and dare I say it a bit grumpy with new people but it really doesn't take me long to come round and then I love to cuddle you up and give you kisses. I'm a happy boy really. I've just had a tough life.
Iím OK at the vets but can be a bit grumpy but as I've been through such a lot lately it's understandable. I don't like getting in the car much but when I'm in there I'm a good boy and travel well. I really love my walks. My legs were quite wobbly when I first came to SSC as I hadn't been walked for so long I had muscle wastage but they're building up really nicely now. I pull a little bit as I'm excited to go out but soon settle.
I'm an affectionate boy at heart and like to cuddle up and give you a kiss. I have lived with children before and I was very good with them. But because of my grumps and age, SSC say I would be better in an adult only home if possible, or with older children who understand that when you get old you need a bit of space now and again.
I've had a tough life all in all and I just want to be loved for however long I have left. SSC really don't want me to get poorly in kennels.
If you are interested in adopting me please call my friend Charlene on 0777 1914583 and I promise I will be so grateful.
Love and licks
Rover xxx
Rover is neutered, vaccinated and microchipped.
He is in kennels in the Worcester area, but can be rehomed anywhere in the UK,
pending a successful home visit.
However any adopter should be willing to travel to meet him where he is now.
There is an adoption donation of £90 for Rover
and all money donated goes directly to helping all the Senior Staffies in our care.
If you think you could offer Rover a new home please
contact Charlene on 07771 914583 or fill out the Adoption Form.[url]www.seniorstaffyclub.co.uk[url]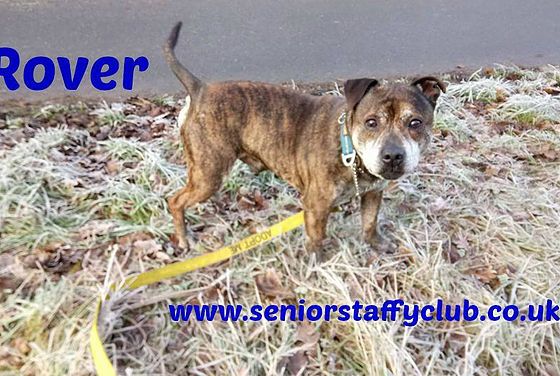 a